Brimstone
Talk

2
3,352pages on
this wiki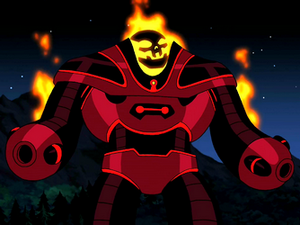 Brimstone was a nuclear powered robot made for war. But when it lost control in Chong-Mai, the Justice League sent in Green Arrow, Supergirl, Captain Atom, and John Stewart to stop it. It could not be stopped by conventional means (its raw power was great enough to even overpower John Stewart's power ring); only after Green Arrow shot a carbon rod in a small exposed hole near its head did it power down.
This article is a stub. You can help the DC Animated Universe Wiki by expanding it.
Background information
In the comics, Brimstone was a creation of the evil intergalactic supervillain Darkseid. In this, his origins are obviously different. Though he was not named onscreen, he was named in the extra Themes of Justice.
Appearance