Royal Flush Gang
Talk

9
3,352pages on
this wiki
"The Justice League found themselves cleaning up one of my old messes. The second group of villains to call themselves the Royal Flush Gang. Or the third—who can keep it all straight?"
— Amanda Waller[1]
There have been three incarnations of the Royal Flush Gang. Each gang has consisted of a King, Queen, Jack, Ten and Ace.
Joker's Royal Flush Gang
Edit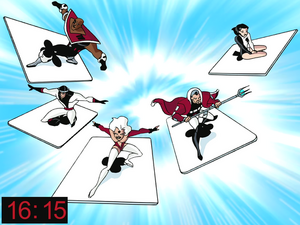 The members of the first Royal Flush Gang were subjects of United States government metahuman research. The Joker freed them from a government facility and formed the group. Dressed up as playing cards, the Royal Flush Gang did the Joker's bidding of fighting the Justice League.
Ace's Royal Flush Gang
Edit
After her powers had evolved to telekinetically warping reality, Ace recruited a new Gang armed with powers she gave them. However, the new gang did not "play" with her and faced the Justice League on their own before being defeated. Shortly after, Ace passed on and took the effects of her powers with her. As such, the rest of the gang reverted to their natural forms.
Unknown Gangs
Edit
It's alluded to that several unseen gangs existed where the Walker family are descended from. It's explained that they bring in new members (i.e. sons, daughters, husbands, wives) when the old ones retire or go to jail. At one point, a "King" was in charge of several members (two being his daughter and a Jack) to which Batman broke up the group.
Walker Family
Edit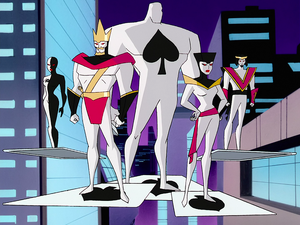 The family of crooks known as the Royal Flush Gang preyed on Gotham City during Batman II's tenure. The gang utilizes weapons shaped like playing cards and flies across the city on card-shaped boards. While they don't have any superhuman powers, King is a master swordsman and Ace is an android. Several of its members possess high-tech weaponry. Ten, the daughter of the bunch, is torn between her gentle and ruthless sides and develops a rather not-completely-professional relationship with Batman II.
Background information
Edit
Appearances and references
Edit
Notes and references
Edit