Sky Sentry
Talk

0
3,352pages on
this wiki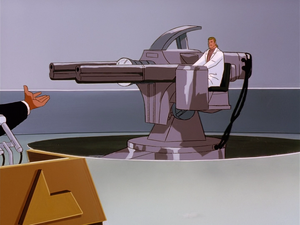 The Sky Sentry was a defensive weapon created by LexCorp.
The Sky Sentry was a defense mechanism designed to counter incoming missiles. Its high energy magnetic beam could knock out the guidance system of any missile, causing it to diverge from its target.
Lex Luthor decided to give a demonstration of the weapon with plenty of press and military attending. Luthor had ordered two missiles to be fired at the LexCorp building, which the Sky Sentry was supposed to intercept. However, it went awfully wrong. Brainiac took over the controls, and shut down the Sentry at a critical point. Superman managed to prevent a disaster by redirecting the missiles.
Angry, Luthor had the Sky Sentry stored in Sector 6, the Research and Development section of LexCorp. There, Brainiac revealed himself and his intentions to Luthor. Superman interfered, and managed to destroy Brainiac by firing the Sky Sentry at the robot. The magnetic field generated by the cannon destroyed Brainiac and most of the lab.
Sighting
Edit